GP guide to omega-3 testing in pregnant women to prevent premature births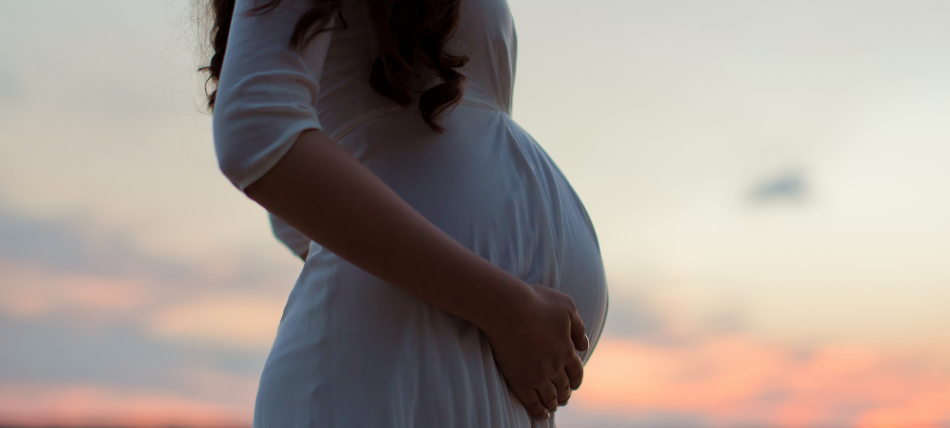 Many healthcare professionals are unaware that screening all pregnant women for their omega-3 status during pregnancy is now recommended. It's a simple but important test – here's everything you need to know.
The latest National Health and Medical Research Council (NHMRC) and Department of Health National Pregnancy Care Guidelines recommend assessing the omega-3 fatty acid status and supplementing pregnant women with low levels of omega-3.
It's important that general practitioners are across this recommendation and what it means for pregnant patients.
Why is it important to screen for omega-3 status?
Evidence suggests that women with a singleton pregnancy with low serum levels of omega-3 fatty acid are at higher risk of early preterm birth than women with adequate omega-3 status. Supplementing women who are low in omega-3 levels reduces their risk of early birth.
What evidence is it based on?
A Cochrane systematic review has been conducted, with over 70 randomised controlled trials of almost 20,000 women with mainly singleton pregnancies. The review indicated that omega-3 supplementation from early to mid-pregnancy until birth resulted in a reduced risk of:
Early preterm birth by 42% (from 46 per 1000 to 27 per 1000 births)1
Preterm birth by 11% (from 134 per 1000 to 119 per 1000 births)1
When should patients be screened?
The evidence supports screening and supplementation from early-mid pregnancy until birth. The resulting recommendation is to screen all women before 20 weeks' gestation to identify women who will require omega-3 supplementation.
How is the test accessed?
In South Australia the omega-3 status can be performed on the same sample as the First Trimester Screen through the South Australian Maternal Serum Antenatal Screening (SAMSAS) Program. This is performed with no cost to the woman for the additional test.
Ordering the omega-3 is as simple as ticking the box on the maternal serum screening test form: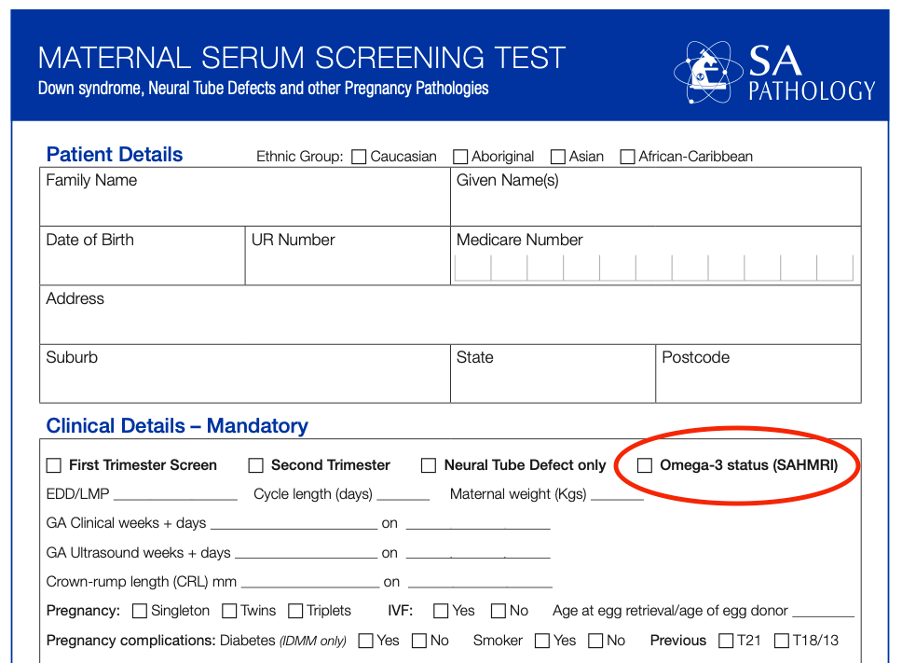 This form is available online here or you can use the template available within your medical software. Just make sure the template in your software is the latest version, accessible here.
Making a recommendation
Omega-3 status test results will be reported to the requesting provider as standalone report and will also be available on OACIS. When you receive the results of the omega-3 status, there will be associated recommendations on whether to supplement or not:
| | |
| --- | --- |
| Omega-3 status *2 | Guidance to incorporate into pregnancy care plan |
| Less than 3.7%(low status) | Take omega-3 fatty acid supplements until 37 weeks to reduce the risk of early preterm birth.Dose: 800mg DHA and 100mg EPA per day. |
| Between 3.7-4.3%(moderate status) | No action required.If already taking omega-3 fatty acids as part of a multivitamin or mineral supplement or a standalone supplement, this may continue. |
| Above 4.3%(sufficient status) | Omega-3 supplements are not required and provide no benefit to risk of early preterm birth.If already taking omega-3 fatty acids as part of a multivitamin or mineral supplement or a standalone supplement, and wish to continue, the dose of DHA+EPA should not exceed 250mg per day. |
*Percentage of total omega-3 fatty acid status in serum
Typical suitable supplements that can be recommended to women who have a low omega-3 status are Omega Brain (Blackmores) and Infantem (Pharmamark) which is a vegan algal oil supplement of DHA and EPA.
New South Australian research
SA Pathology and the South Australian Health and Medical Research Institute (SAHMRI) are evaluating the implementation of the omega-3 guidelines recommendation, with the aim of reducing the number of early preterm births.
This SA Pathology-SAHMRI collaboration will assess the feasibility and reach of identifying women with low omega-3 status, providing appropriate advice and recommendations regarding supplementation, and ultimately assessing success in reducing rates of preterm birth. This will be done by deidentified linkage of the omega-3 status test results with relevant pregnancy outcome data. Women can be referred to the Privacy Disclosure on the SAMSAS request form:

Women can opt out if they do not want their data linked by contacting SAHMRI via email omega3@sahmri.com
Screening process recap
We all know that antenatal appointments can be complex
enough without having to think about another test to order! So, to summarise:
Discuss the omega-3 status test with women in early pregnancy. You can refer them to the Information for Families brochure on the SAHMRI website
Order the omega-3 status as part of their First Trimester Screening by ticking the 'omega-3 status' box on the SAMSAS form.
Refer the woman to the Privacy Disclosure on the SAMSAS request form, advising them they can opt out if they do not want their data linked.
Make recommendation on omega-3 fatty acid supplementation based on the test results.
By following these 4 simple steps, we can all work together towards reducing rates of preterm birth!
For any further questions, call us on our health professional hotline: 0438 273 155
References:
Middleton P et al. Omega-3 fatty acid addition during pregnancy. Cochrane Database Syst Rev. 2018;11:CD003402
Simmonds LA et al. Omega-3 fatty acid supplementation in pregnancy – baseline omega-3 status and early preterm birth: exploratory analysis of a randomised controlled trial (ORIP). BJOG. 2020;27(8):975-981