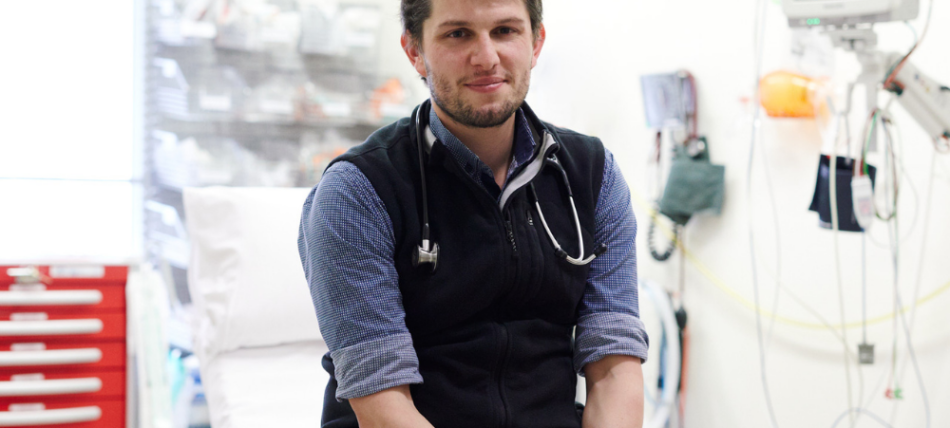 Inspired by the doctors around him and determined to provide a high level of care for his community, Dr Geordie Beath was attracted to a career in rural general practice for both the vocation and location.
Geordie, a recently fellowed Rural Generalist based at the Clare Medical Centre, is living in the Clare Valley with his young family.
"I wanted to be a rural generalist specialising in anaesthesia, and fortunately, anaesthetic skills are highly desired in regional areas," he said.
"Several amazing locations would have welcomed me and my family ultimately chose the Clare Valley for its wonderful community and great school opportunities.
"I've discovered that as a rural doctor, your service to the community is often repaid tenfold in gratitude and the locals have warmly welcomed us."
Geordie's desire to practise medicine began in childhood and was reinforced during his early years at medical school.
"Growing up, I always saw my family doctor as what it was to be a real GP. We could always turn to him for any issue"
"When I first started training as a GP I worked with a great GP anaesthetist in Murray Bridge, who seemed to be able to make the balance of family and rural medicine work.
"They delivered a broad scope of care with exceptional quality at the same time as raising a family in the country.
"This inspired me to pursue rural general practice and offer my family and community a similar experience.
Specialist and extended skills training allow Geordie to provide a wide range of elective and emergency anaesthetic services to the region.
"Anaesthesia training is particularly useful for its focus on critical care," he said.
"It offers the community reassurance that comprehensive care is available in the local region, whether that is skills in emergency, pre-hospital or resuscitation medicine."
Geordie believes that being a rural GP challenges him to be the best doctor he can be, and he works hard to ensure the community feels safe and cared for.
"I aim to provide a service that locals can turn to and trust," he said.
"I believe that the role of a GP is significant in regional areas and I take very seriously the responsibility this role brings."
Geordie sees rural generalists as both advocates and providers of quality medicine in the country.
"Rural GPs are empowered to provide the highest level of care across a broad range of services, from start-of-life to end-of-life care and everything in between"
"This can range from assisting the local volunteer ambulance crew with pre-hospital medicine, general practice preventative medicine, nursing home visits, elective anaesthesia, inpatient medicine at the local hospitals, outreach clinics and emergency medicine.
"No matter what challenges present in the community on any given day, my registrar experience gives me the confidence to handle them.
"Being a rural generalist offers me a sense of purpose within the community, which I believe fulfils an extremely powerful human need."
Dr Geordie Beath (FRACGP) is a recent Rural Generalist Fellow having completed his training in Advanced Rural General Practice (FARGP) with the Royal Australian College of General Practitioners (RACGP).