Meet Dr Lachlan Mackinnon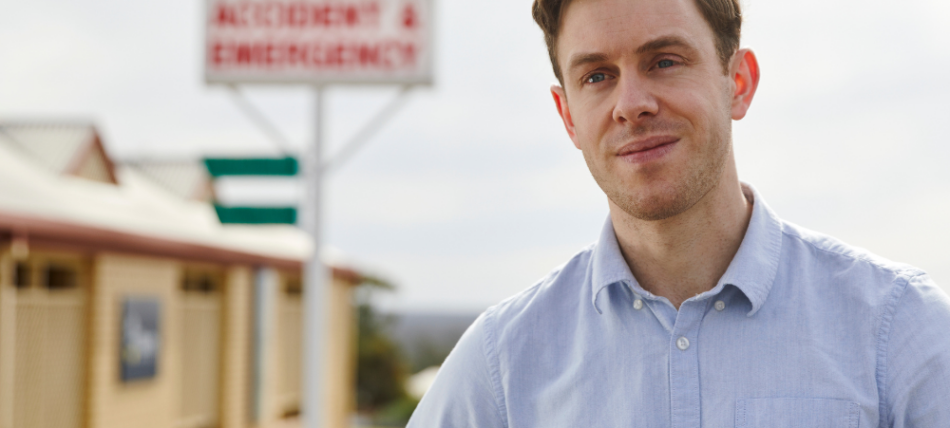 An appreciation for rural communities and an understanding of the needs of those communities was always in the forefront of Lachlan's mind when he pursued a career in Rural General Practice.
Having grown up in the country and with a father who is a Rural Generalist, providing specialist general practice skills as well as anaesthetics, minor surgery and obstetrics skills, certainly highlighted the diversity of medicine and positive impact that Rural Generalist could have for their local community.
Many would be aware how valuable it is to have access to consistent, high quality and accessible health service in your local area. This awareness is heightened in rural areas with the reality of shrinking towns and decreases in population being a common occurrence should this access to primary care not be available.
Being a Rural Generalist is more than just regular GP consulting. It is looking after nursing home patients, providing a 24 hour emergency service, delivering babies, providing safe anaesthesia for local surgeries and so much more.
This Rurally minded medicine approach of Rural Generalists for Lachlan means so much more than just a job.
For me personally, Rural Generalism encompasses a philosophy of both living and working. It means opening up to the community and enjoying being welcomed in while being proud of the health services you can provide.
It's seeing that friendly faces in the main street or at other tables when having a meal at the local hotel. And the ability to put all of the skills and knowledge that you've accumulated over many years, to work, in the most diverse way possible.
It is very satisfying helping people and seeing the results every day, knowing you have played a small part in supporting and maintaining the vibrancy of your own community.
Lachlan shares that the vocation of being a Rural GP had been present since his early days of medical school. The opportunity to complete the John Flynn Placement Program during medical school allowed him to work with Dr Karl Staer in Esperance, WA. The placement enabled him to gain first-hand experience with emergency medicine, anaesthetics, general practice, and obstetrics which solidified his decision to become a Rural Generalist.
Opting to do further training in the specialty area of Anaesthetics to compliment his foundation GP training on the way to a fellowship of the Australian College of Rural and Remote Medicine (ACRRM), Lachlan completed the Advanced Specialist Training (AST)at the Lyell McEwin Hospital and describes the skills gained to be invaluable upon returning to life as a Rural GP. His attraction to upskilling specifically in anaesthetics, attributed to an enjoyment of the physiology, pharmacology, and ability to use procedural skills – all of which anaesthetics allow.
The added benefit is that learning how to manage an airway has given me a huge confidence boost for when doing on-call work in the local Emergency Department (ED), as now I feel more comfortable managing very sick patients and preparing them for transport prior to the arrival of a retrieval team.
Lachlan describes both the beauty and challenge of the life of a Rural Generalist is that no two days are ever the same and there is no chance to get bored.
Generally, his week could include several days of general practice consulting, then a day on-call for the local hospital and a day completing an anaesthetic list either locally or in the neighbouring town. Depending on the on-call and anaesthetics days, he could be involved with (hospital) clinic work, or providing an anaesthetic to assist in the delivery of a baby, or consulting with the young or the elderly, with minor complaints, serious illness or anything in between.
There are so many benefits of being a Rural GP – you just have to come out and give it a go!
For me, I think the work-life balance it allows is a huge plus. We work hard during clinic hours and although we have to do an occasional day on call, the remainder of the week allows for lots of free leisure time to enjoy with family and friends. I love being able to go for bike rides down by the river and then out amongst the vineyards.
Lachlan also sights the ability to progress quickly in your career as a huge bonus and is very proud to have recently joined the Loxton Health Centre as a Practice Partner.
The financial rewards are there and (they) certainly compensate for on-call hours. Together with the hospital and anaesthetics work that adds a nice bonus to my take-home pay. The earning potential (in rural areas) is significantly more than if I was a practicing GP in the city.
If you enjoy variety, a sense of community, the outdoors, a great place to bring up a family, diverse medicine, the ability to develop and practice procedural skills, then being a Rural Generalist GP certainly ticks all the boxes.
Now settled in Loxton, Lachlan feels incredibly fortunate to have now found a perfect location to call home in South Australia's Riverland, he intends to stay indefinitely and hopes to raise a family in the coming years.
Loxton is a beautiful town located on the Murray River that has picturesque grapevines, a strong sense of community, a variety of local sporting clubs and facilities, as well as multiple schools. Only a 2.5-hour drive from Adelaide, the short distance allows the benefit of both country living and being able to visit the city of Adelaide for a weekend with ease.

Dr Lachlan Mackinnon, FACRRM, Rural Generalist, Loxton Health Centre, Loxton.