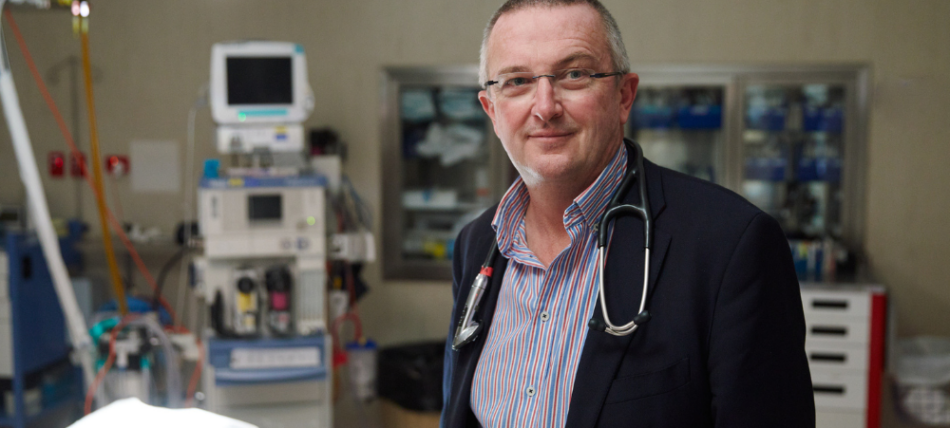 The Altmann family name is synonymous with healthcare in Murray Bridge.
Dr Martin Altmann and Dr Fiona Altmann, and before them Martin's father the late Dr Frank Altmann, have provided GP services to the region over 60 years.
Martin took inspiration from his father in choosing his career as a rural generalist.
"As a young doctor you like to think you have chosen a self-directed pathway, but now that I am older I can look back and see the great role model that my father was," Martin said.
"It has been shown that growing up in the country with early exposure to positive role models is a high positive predictor to pursuing a path in rural medicine, and that was certainly the case for me."
A Fellow of the Australian College of Rural and Remote Medicine (FACRRM), Martin is a Rural Generalist GP and part owner of the Bridge Clinic.
As a rural GP he also provides ward consultations at the local hospital, on-call cover for emergencies and obstetrics, aged care visits and most recently, a local COVID-19 Respiratory Clinic.
"The ability to practise a wide range of skills and know your patients well, rather than referring them down the specialist treatment path, is what inspires me."
"The vocation and location of rural medicine go together – practising my skills in a location where I am valued sees the two go hand in hand and I certainly appreciate the autonomy that procedural general practice can provide.
"Rural GPs also advocate strongly on local issues. It is pleasing to have a positive impact on services that benefit the community, such as the creation of a new emergency department for the local hospital in Murray Bridge.
"Doctors are greatly valued within our regional community. This is expressed in a manner of way such as tradies arriving to help on the same day that I ring them, receiving warm greetings at the football club and having young mums stop me in the street to chat about the growth of their families."
Martin believes that a strong rural medical workforce will positively impact the recruitment of other essential workers to a region.
"Access to quality healthcare at a local level is critical to bringing workers such as teachers, police officers and skilled labourers to these regions," Martin said.
The community atmosphere and shared goals experienced in rural setting also inspire Martin.
"Earlier this year, 50 locals held a leukemia shave fundraiser and we collected over $110,000 in donations. This event was sparked by one of our local families being affected with leukaemia. Thirty shaved heads to support cancer treatment in a town of 22,000 people is amazing and reflects rural community's passion and spirit," he said.
"I'm also the local doctor for the mighty Ramblers Football Club and I greatly enjoy the camaraderie as I review the generally minor injuries twice a week at practice.
"It's a great chance to immerse myself in the sporting culture of our town as I sit on the bench on game days and also served as Vice President of the club."
Martin's wish is that flexible pathways and the opportunity to thrive in rural general practice will encourage budding doctors to consider careers outside the city.
"In rural medicine it's rewarding to see trainees come through and share our passion as they gain skills to provide these services.
"The autonomy and the relationships we develop with our fellow medicos, nursing staff and most importantly our patients, is highly satisfying.
"To any potential rural generalists of the future, I would say that for myself and my wife Fiona it has been a highly fulfilling career and we would be very, very happy to do it all again."
Dr Martin Altmann is a rural generalist with a Fellowship of the Australian College of Rural and Remote Medicine (FACRRM).