A change in career, taking general practice to the next level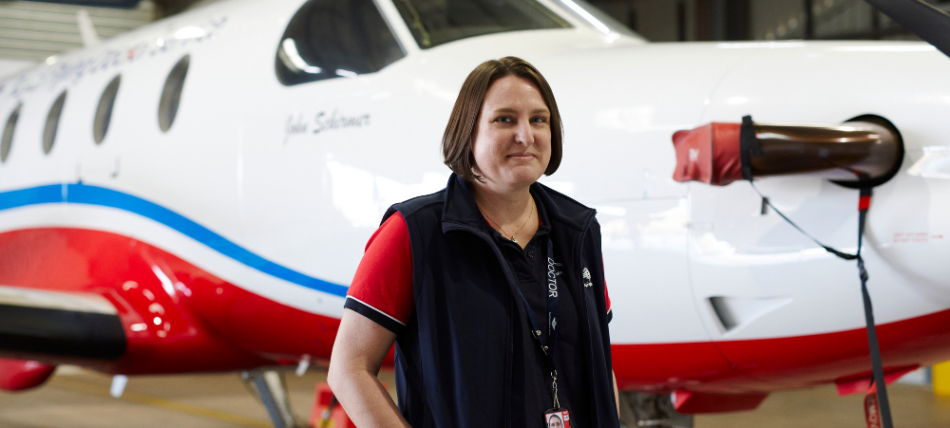 Dr Donna Weckert wasn't always a doctor, but once she decided to study medicine, it was all in or not at all.
When I started my medical studies, General Practice was always a strong contender due the scope of practice it provided and so I figured that if I was going to do this, then I should go all out, and that's how I ended up choosing the Rural Generalist pathway.
Born and raised in remote and rural Australia, Donna always saw herself back in the country, however it wasn't until she had chosen medicine and was fortunate to spend six weeks at the Royal Flying Doctor Service during her final year at medical school, that she truly discovered where and how she wanted to practice.
Being able to visit some of the most remote parts of the state, flying over beautiful countryside, and knowing that what I do is having a positive impact…. "that's what I wanted to do."
The chosen rural generalist training pathway became excellent preparation for Donna to reach her goal of being part of the RFDS team on a more permanent basis and she thoroughly enjoyed how the training program required her to do more than just GP.
Training with the Australian College of Rural and Remote Medicine (ACRRM) ensured Donna trained to be able to meet competencies in obstetrics and anaesthetics as part of her training, preparing her for the challenges her future career in rural locations.
Rural Generalism is really about practicing rurally minded medicine, in her own words Donna describes this as… "identifying the fact that remote and rural medicine is unique and cannot be delivered in the same way as it would be in the cities and larger towns of this state. "
"When it comes to providing primary healthcare services I am proud to say that we (the RFDS team) can do pretty much everything that a city GP practice can do, but we need to be flexible and often create some very unique ways to deliver those services."
The RFDS community which Donna services, encompasses a vast geographical area and is quite diverse in its nature, incorporating townships, those living on remote station country and Aboriginal communities. Donna utilises both her primary health care skills and knowledge, but also her emergency medicine experience to provide care across the spectrum of medicine.
"It's not just managing day to day illnesses and chronic conditions, but performing aeromedical retrievals and responding to emergency presentations."
Donna shares, that over the last few years the RFDS team have been able to see the impact of their commitment to the community. This is being reflected in the reduction of retrievals for exacerbations of chronic conditions, the people are presenting more regularly and buying into their own healthcare.
"A great example is recently we on location for a regular clinic and a patient (from quite a distance away) happened to be driving past. He saw the RFDS plane and so decided to drop in for a GP review and have his regular diabetes bloods taken. The fact that he felt comfortable doing this, knowing we would welcome him, showcases the relationships formed and the trust developed within the community. It really demonstrates how our patients appreciate what we do."
Every week as a rural generalist is different.
"I made a conscious decision to choose a lifestyle where I would be comfortable and never get bored. I don't like sitting behind a desk from 9-5! "
Donna's role is extremely varied, one day she may be at the base, fielding phone calls from patients and RANs, following up results and coordinating ongoing care, contacting specialists or working on corporate documentation, and participating in working groups.
And the next day, she is out flying with the flight nurses to retrieve and transfer patients from around the state, to ensure that they make it safely to definitive care.
Donna is also a part of the RFDS National working group on Telehealth and so putting a lot of effort into expanding the phone-based consults, providing further access to care for those in remote locations.
Then there are clinic days when she visits various locations based on the RFDS schedule, which takes her and the team all around the north and western parts of South Australia.
"…a couple of weeks ago I flew over the head of the (Great Australian) Bight and we saw whales playing, then the very next clinic I attended took me across to the Flinders Ranges, seeing the magnificent Wilpena Pound from above, a spectacular view from the plane window."
"I see my role within this community as a very important one. Our clients are so very isolated, as are our RANs (Remote Area Nurses) managing the remote clinics, and so at times of illness, or stress, uncertainty or trauma, they need to know they can ring us and access the best support and assistance."
"As a rural generalist, there really is always something different. And we rise to the challenges of working with the resources that are available at the time, to provide the best for our patients, to be available to them and be involved throughout their lives…
And to top it off, I get to see remote parts of this beautiful country, minus the traffic! I wouldn't change a thing."
Dr Donna Weckert
GP Registrar – Rural Generalist Registrar (ACRRM) RFDS, Port Augusta