The importance of our Supervisor Liaison Officers (SLO) and Supervisor Team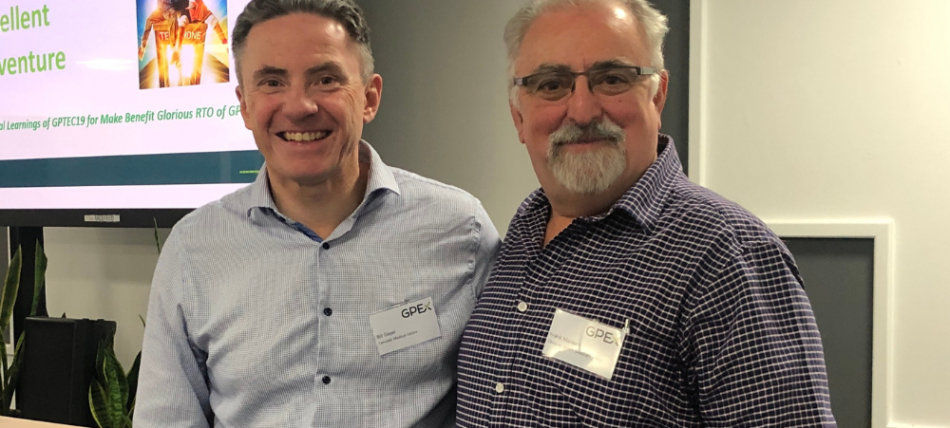 GPEx is pleased to announce the appointment of Dr Bill Geyer as the GPEx rural SLO with Dr Frank Maldari continuing in his role as the urban SLO.
The Supervisor Liaison Officers are experienced GP Supervisors who liaise between GPEx and the wider GPEx Supervisor group.
They are a conduit for GP Supervisors' ideas and concerns regarding the Australian General Practice Training (AGPT) program and provide supervisor input into the review and development of GPEx policies, procedures and activities. Our SLOs represent GPEx at General Practice Supervisor Association (GPSA) meetings and seek to feedback new developments through regular updates at the GPEx Supervisor workshops and when required through this monthly newsletter.
Our Supervisors not only provide support but a depth of experience and knowledge to registrars under their "guidance". Supervisors report that having a registrar in their practice provides regular opportunities for shared professional development and supports a practice culture of continuous education.
Introducing Dr Frank Maldari – SLO, Urban

Born and educated in Penola, Frank then attended Adelaide University completing MBBS in 1986. In his own words, after a convoluted path to general practice, initially thinking about rural general practice and cardiology before entering paediatric training and subsequently seeing the light, Frank then entered general practice as a non fellowed GP at Christies Beach Medical Centre, where he is today.
With an ever-growing passion for education and sharing knowledge, Frank consistently played a large role in supporting junior doctors and medical students in the Practice, while subsequently developing his skills along the way.
In 2002 the opportunity arose to be formally involved in GP Registrar training with SFGPET and he quickly became a passionate advocate of both the PGPPP program and the vertical integration training model, supporting all levels of training – medical students, interns, RMO's and GP Registrars.
In 2006 Frank undertook further training himself, completing the Graduate Certificate in Clinical Education at Flinders University and then sat the RACGP exams, fellowing in 2008.
2009 saw Frank commence as examiner for the RACGP and he subsequently became a QA Examiner. In 2016 Frank was recognised by the RACGP and awarded the RACGP South Australian GP Supervisor of the Year.
Today Frank is a vital part of the GPEx education and training team in his role as SLO, which he has held for four years. His passion for training and assisting registrars in dealing with the complexities of medicine in an ever-changing environment is both infectious and greatly appreciated.
Introducing Dr Bill Geyer – SLO, Rural

After studying medicine at the University of Adelaide, Dr Bill Geyer started his career with a year in Alice Springs (NT) learning obstetrics skills in a sometimes challenging environment. The following year Bill moved to Tamworth (NSW) and trained in anaesthetics, acquiring additional skills well suited to work in rural environments.
Bill then moved to Nhulunbuy (NT) – a community of less than 4000 people, this township is located in the East Arnhem region of Northern Territory. Nhulunbuy was a chance to experience third world medicine in a first world country. The indigenous people, the Yolngu, still practice their traditional ceremonies and speak English as a third or fourth language. Bill experienced it all: he was treating babies with gastro who had potassium levels higher than their haemoglobin. As well as working in the town, Bill and the other doctors were flown out to even more remote communities to run clinics. It was the ideal environment to consolidate everything he had learnt up to that point.
After a year to do the Big Lap around Australia with his new wife, Bill came back to SA to do numerous country locums. In 1995 he settled in Tanunda where has worked as a procedural GP, a GP supervisor and as a medic for the Variety Bash.
Because obstetrics was the most enjoyable part of his medical training, Bill was delighted to continue working in this field when he settled in Tanunda, and is still heartbroken that the obstetric service has subsequently closed.
It seems that from a young age, Bill was destined to be a rural GP, recalling that "my mother brainwashed me from an early age about how wonderful it was to be a country GP". Coming to the Barossa was a coincidence, as my family settled there when they came out from Germany in 1849.
Today, Bill is a highly skilled GP with a take charge attitude. He says "I can see a complicated future ahead for GP Training. I saw the SLO role as an opportunity to be involved in supporting my colleagues and the doctors of the next generation."