CPD for GPs: 5 tips on how to complete your annual CPD

Well done if your CPD (Continued Professional Development) hours are up to date! Unfortunately, not every GP will be on schedule to meet this requirement. If you're a bit behind schedule, keep reading because GPEx has some great tips and advice on how to complete your 50 hours of CPD before 31 December.
That's right, you only have a few months left to complete your CPD for 2023! But when it's done, you'll be at the end of the first year of the 2023–2025 triennium.
So let's start with a refresh of the CPD changes that occurred in 2023.
The required activity types of CPD for GPs
There are three types of CPD activities:
Educational (EA) – knowledge and skills
Reviewing performance (RP) – reflecting on feedback
Measuring outcomes (MO) – using work data for quality results
Each of these activity types has a minimum number of hours that you can spend on it. But while these three activity types are set, there is some flexibility in how you choose to make up your CPD hours (remember they must relate to your scope of practice).
CPD – What changed in 2023?
Your annual CPD is a requirement of the Australian Medical Association (AMA) and, if you're looking at CPD for GPs, one of the things you need to do is create an annual written professional development plan.
You're also required to complete a minimum number of hours on CPD activities. These are following:
12.5 hours of EA
25 hours of RP and/or MO (with minimum of 5 hours each of these two types)
12.5 hours of any activity type ( your choice of EA, RP and/or MO)
Total: 50 hours
From the start of 2023, you no longer have the option of self-managing your CPD. If you're a non-exempt medical practitioner, you need to choose a CPD home (an organisation accredited by the Australian Medical Council).
Finally, don't forget that you will also need to complete a CPR course within the triennium.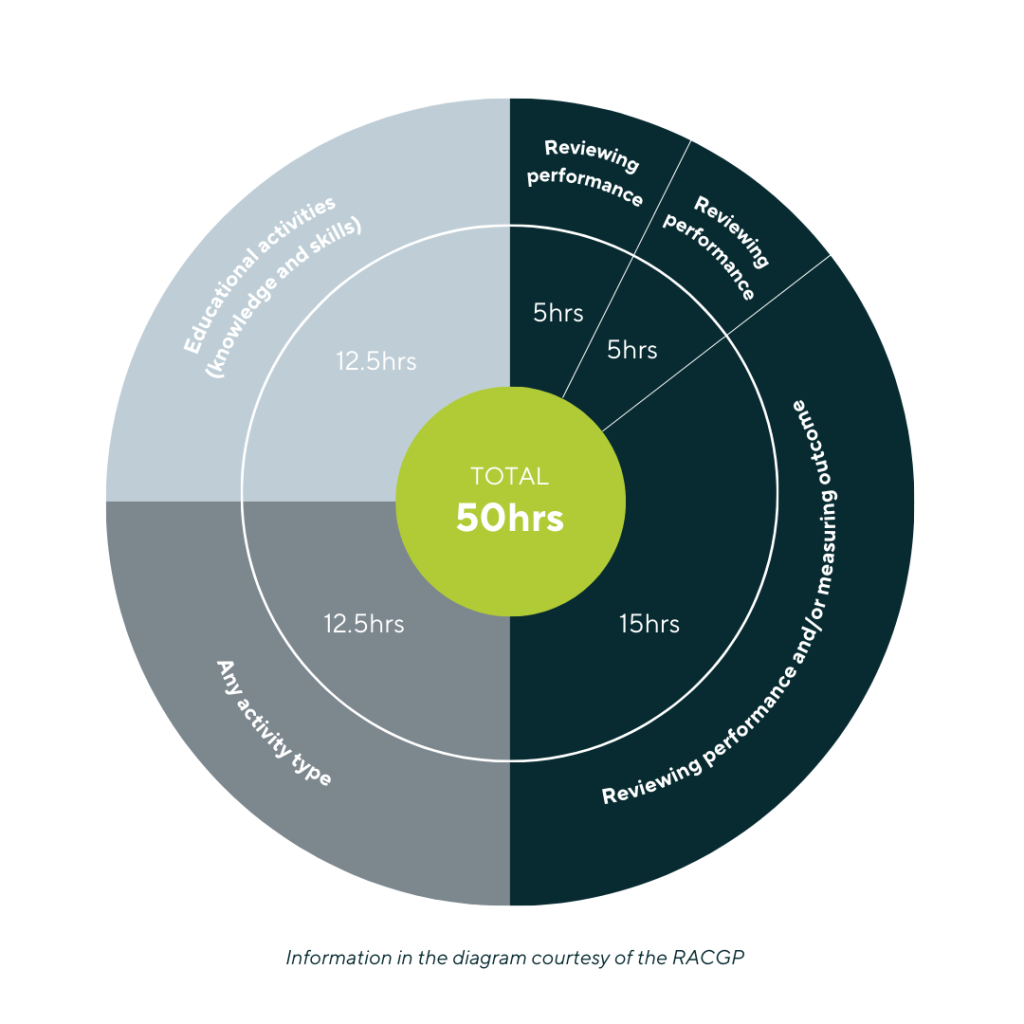 How to plan your CPD so it's easier
To work out a plan to finalise your required 50 hours, first calculate how many hours of CPD you need to complete before the end of the calendar year (31 December). For example, say you've already done 24 hours and there are 10 weeks to until the end of December. That would work out to: 50 – 24 = 26 divided by 10 = 2.6 hours per week.
Keeping up with your educational activities component of your CPD just got a lot quicker, thanks to new features in the Australian Journal of General Practice (you might remember it as the Australian Family Physician). Post-reading, utilise the 'quick log' button at the page end. This automatically files a record into your CPD log with the title and 0.5 CPD hours. This aims to enhance the convenience of tracking your CPD hours.
Additionally, check out the RACGP's quick logging function on your myCPD dashboard to log the hours you spend on your CPD activity.
See how achievable your CPD workload is when you break it down into weekly segments!
Let's look at some other ways to meet that important deadline in December.
Tip one – Commit to time out for personal events
Be sure to allocate time for other important personal events from today until the end of December. Whether it's the Festive Season, a family birthday or a public holiday, ensure you incorporate private or personal time into your schedule. It's better to plan ahead and fulfil your personal commitments than to miss a family occasion at the last minute because you're scrambling to complete your CPD.
Tip two – Keep your work safe
Keep your records and professional work safe and secure. Back up any documents on a portable hard drive, so if anything happens to your laptop or desktop computer you have separate retrievable files on hand. Also, scan any hard copy notes and documents you may need, and add them to the hard drive as well.
CPD for GPs requires accurate and organised record-keeping. You should keep all your valuable work and records in one place so you:
know exactly where every document is when you need it
don't need to repeat or reconstruct evidence of work you've misplaced.
The three-year requirement
It's important to note that you must retain evidence of your CPD activities for three years after the end of each one-year cycle. (e.g. If you complete a CPD activity in June, then you'll need to keep evidence of it for three years from 31 December.)
GPEx will provide you with a Certificate of Attendance when you complete your CPD activity (e.g. webinars, workshops, case-based discussions, podcasts). This certificate confirms both the number of CPD hours and the type of CPD activity you've undertaken.
Tip three – Maintain a weekly planner
We discussed macro scheduling above, but micro planning your week is the other side of good organisation. If you're attending online courses, make sure you schedule an hour each weekday to do the work required. You'll find when you formally organise your days that you're not tempted to procrastinate. You're able to confidently book the course you want to study because you know what your availability is in the coming week.
Tip four – Reflect on your learning
When you're busy, it's easy to overlook the practice of reflection. But taking time to review and contemplate is essential for an important reason.
We retain more when the learning experience is meaningful. To make it memorable, write and/or think about your CPD experience and the aspects of it that were enlightening or unusual. A meaningful learning experience requires you to understand what you learnt and how it relates to your professional development and patient–doctor relationships.
Tip five – Discuss CPD with your colleagues
CPD for GPs doesn't have to be a solitary experience. Go to a CPD event with a colleague or listen to a webinar and discuss it afterwards., Remember that sharing your experience or viewpoint can transform an undeveloped idea into a valuable conversation.
How GPEx can help you
GPEx has been providing expertise and support to GPs since 2002. Our courses, many of which are CPD-accredited with the RACGP and ACRRM, have been developed in consultation with in-house subject matter experts and are fit-for-purpose and evidence based. Best of all, they are interactive and engaging, to ensure meeting your professional development requirements is never a chore!
We currently have the following courses on offer: